Food and Wine Pairing
This food and wine pairing guide helps you select the right food and wine to go together. The key to food pairing is to keep the wine and food balanced: full-bodied wines with robust food, and light, delicate wines with more delicate foods.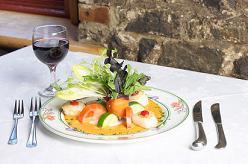 Having said that, what else is important?  Well, your own personal preference, of course! 
At the end of the day, what matters is what tastes good to you, so don't be afraid to break the rules. If you prefer Chardonnay to Cabernet Sauvignon and enjoy it with your steak, then that is a good food pairing for you personally, despite the wine experts who would tell you that you have to have red wine with steak.
There are no hard-and-fast rules in food and wine pairing, so consider these tips as general guidelines and not as "wine laws" that you must follow.  

Have a burning question about wine?
Have you always wondered about the history of a certain type of wine? Or asked yourself what food is best with Chardonnay or Merlot? Share your question, and I'll give you my best answer. And others can chime in too!
Also, take a look at these articles on Wine Basics and the different Types of Wine.
4 Rules for Wine Pairing
1. Pair Red Wine with Red Meat and White Wine with White Meat
Typically, you will find the robust body of many red wines (eg, Cabernet Sauvignon, Merlot, Zinfandel) goes better with red meats like beef and lamb than lighter-tasting meats like chicken or fish. A white wine is the more usual choice with poultry or seafood.
For pork, you could go with either a lighter red wine like a French Beaujolais or a Pinot Noir, or try Sauvignon Blanc or a medium Chardonnay.
However, there are exceptions to the red-with-red and white-with-white rule, because a lot also depends on the sauce and spices in the dish (see points #2 and #3 below). Also, if you prefer red wines then you could choose a light Pinot Noir with a roast chicken, for example. Or if white wine is your preference, then by all means pair a fuller-bodied white wine like Chardonnay, or try an off-dry rosé wine, with your steak or pork chop.
2. Consider the Sauce in Food and Wine Pairing
Sometimes the flavor of the sauce is the major indicator of how robust a dish is, and you may want to pair the wine with the sauce rather than with the type of meat being eaten. For example, a chicken parmigiano dish with a robust tomato sauce, fried chicken, and rich cheeses stands up better to a red wine (such as an Italian Chianti ) than a light white like Sauvignon Blanc. If you prefer white, then a more full-bodied choice like Chardonnay would be best.
For dishes that are braised in wine, then you can choose that same wine to go with the meal. For example, a beef or veal stew cooked with Cabernet Sauvignon. Personally, I love a roast chicken basted in a Merlot or Pinot Noir while cooking, with the same wine drunk with the meal.
Pairing wine with the sauce or seasoning is also a good food and wine pairing tip for pasta, rice or vegetable dishes.
3. Spicy Dishes Pair Best with a Sweeter Wine
Spicy food is definitely one time when the rules for food and wine pairing above do not apply. Just try drinking an extra-dry Cabernet with a lamb curry and you'll see what I mean.
A dry wine often does not combine well with heavily spiced food like Indian, Thai or Mexican dishes. I enjoy an off-dry or sweeter Gewurztraminer or Riesling with spicy foods.
4. Use Care When Pairing Wine and Cheese
It is true that wine and cheese are often paired together. However, choosing the right wine to go with your cheese can be a challenge. Some cheeses, like Brie, are so rich and yet have such a mild flavor that it can be hard to find the right combination.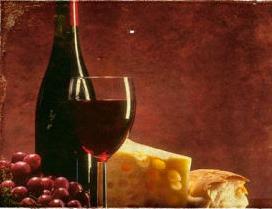 Here are some good combinations of wine and cheese:
Pair a full-bodied red like Merlot or Cabernet Sauvignon with hard, strong-tasting cheeses like Cheddar and Parmigiano.
Blue cheeses like Stilton are wonderful with a sweet dessert wine like Port. Or try a Sauternes with Gorgonzola.
Soft cheese like Brie is excellent with a nice Pinot Noir or a white wine like Sauvignon Blanc or a lighter Chardonnay.
And what if you have a selection of cheeses? Well, why not offer a selection of wines, and use it as an excuse for a wine-and-cheese tasting party!
Developing Your Own Pairings
Getting good at food and wine pairing is as much about developing your own personal tastes in wine as it is about following the rules about what food goes with what type of wine.
The best advice is to experiment with different types of wine and different types of food, and decide for yourself what your own pairing preferences are. The tips above are intended to provide you with a starting point from which to develop your own palate. 
---