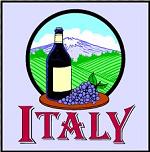 Italian Wine
This Italian wine guide will help you get the most out of wines from Italy. Learn about
Italy is the largest producer of wine in the world. They have been making wine for over 3,000 years!
Vineyards grow throughout the country, and there are many different wine labels and provinces in Italy. But in fact, if you want to learn the Italian wine basics, then you only need to worry about a small fraction of that: the three most important wine regions, and a couple of dozen of the leading quality wines.
Keep reading below to find out more about Italian wines.
Have a burning question about wine?
Have you always wondered about the history of a certain type of wine? Or asked yourself what food is best with Chardonnay or Merlot? Share your question, and I'll give you my best answer. And others can chime in too!
Italian Wine Regions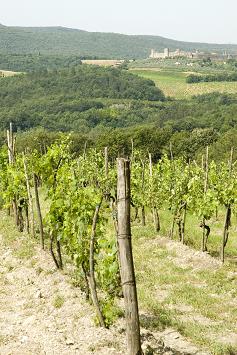 There are almost two dozen wine regions in Italy, but you can concentrate on the main three. These three top wine-producing regions are:
Tuscany – Tuscany is most well known for Chianti made from the Sangiovese grape. This region extends north from Rome in the central western part of Italy.
Piedmont – This region is in the extreme northwest portions of Italy, and is known for the Nebbiolo grape from which the full red wines Barolo and Barbaresco are made.
Veneto – This is the region around Venice in northeastern Italy. It produces some very drinkable white wines such as Soave.
Italian Wine Labels and Classifications
The Italian organization which controls the production and labeling of wine is called the Denominazione di Origine Controllata (D.O.C.). There is also a higher quality designation called D.O.C.G. ("G" stands for Garantita). There are about 300 D.O.C. wines and almost 25 D.O.C.G wines.
Italian wines are labeled in different ways. Some are labeled by the grape variety (eg, Sangiovese), some by the wine-making district or village (eg, Chianti), and some have proprietary names invented by the particular vineyard.
The best way to become familiar with Italian wine labels is to get to know some of the main brands, such as those listed below. You can also take a look at this article with more information on how to understand the labels on Italian wine bottles.
Italian Red Wines
There are a much smaller variety of wine grapes grown in Italy than, for example, in France or California. The main red grape varieties are Sangiovese (in Tuscany) and Nebbiolo (in Piedmont). Dolcetto and Barbera grapes are other varieties grown in Piedmont.
These are some of the main Italian red wines:
Chianti
For many people, when they think of Italian wines, they think of having a Chianti table wine with pizza. Chianti is made from the Sangiovese grape in the Tuscany region. There are three quality levels of Chianti: the budget plain "Chianti", the mid-range "Chianti Classico" and the highest quality "Chianti Classico Riserva".
Barolo
Made from the Nebbiolo grape variety, Barolo is a full, tannic red wine with high alcoholic content produced in the Piedmont region. It is required to be aged for three years before sale (one year in wood), and the "Riserva" label must be aged for five years.
Barbaresco
Like Barolo, this is also made from Nebbiolo grapes in the Piedmont region, but Barbaresco is a somewhat lighter red wine. It is aged for a shorter time than Barolo.
Italian White Wines
Italy is definitely better known for red than for white wine, but there are some popular, economical white wines from Italy. For example, Pinot Grigio (the same grape as Pinot Gris in France ) is a white grape variety common in Italy. Other examples are Soave white, and Frascati. More recent white grape varieties planted in Italy include Chardonnay and Sauvignon Blanc.
These are some of the main Italian white wines:
Soave
Soave is produced in the Veneto region, and is an economical, easy-to-drink white table wine. It is made from the Garganega and Trebbiano grapes.
Asti
Asti is a well-known Italian sparkling wine made from the Muscat grape in the Piedmont region.
Cortese
Cortese is not a well-known wine grape. It has been grown in Northwestern Italy in the Piedmont area since as long ago as the 17th century. It is used to make a light, greenish-colored, refreshing white wine that can make an excellent aperitif when well chilled.
I have enjoyed Castalvero Cortese, which was quite affordable in our local wine shop. The aroma is quite citrussy, with a lot of grapefruit and a touch of sweet melon. The taste was nice and light and refreshing - quite tart without being overly acidic. Lots of citrus, especially grapefruit, with some minerality. It's quite a dry wine, although there's a hint of initial sweetness on the tongue, followed by the tart, citrussy finish.
Cortese can make a very nice aperitif wine, or it can be paired with light seafood dishes.
---

To learn more about all the various types of wine of the world, click here to read the section on "Types of Wine".


---