Making White Wine
The process of making white wine compared to red wine is not about the color of the grapes. Many people think that white wine is made from green grapes and red wine is made from red grapes. But that's not actually the case!
In fact, white wine can be made from any color of grape. The difference is in whether or not the skins are used: for making white wine, winemakers will remove the grape skins and only use the colorless inside flesh of the fruit.
The infographic below from Wine Folly gives a great overview of the white wine making process: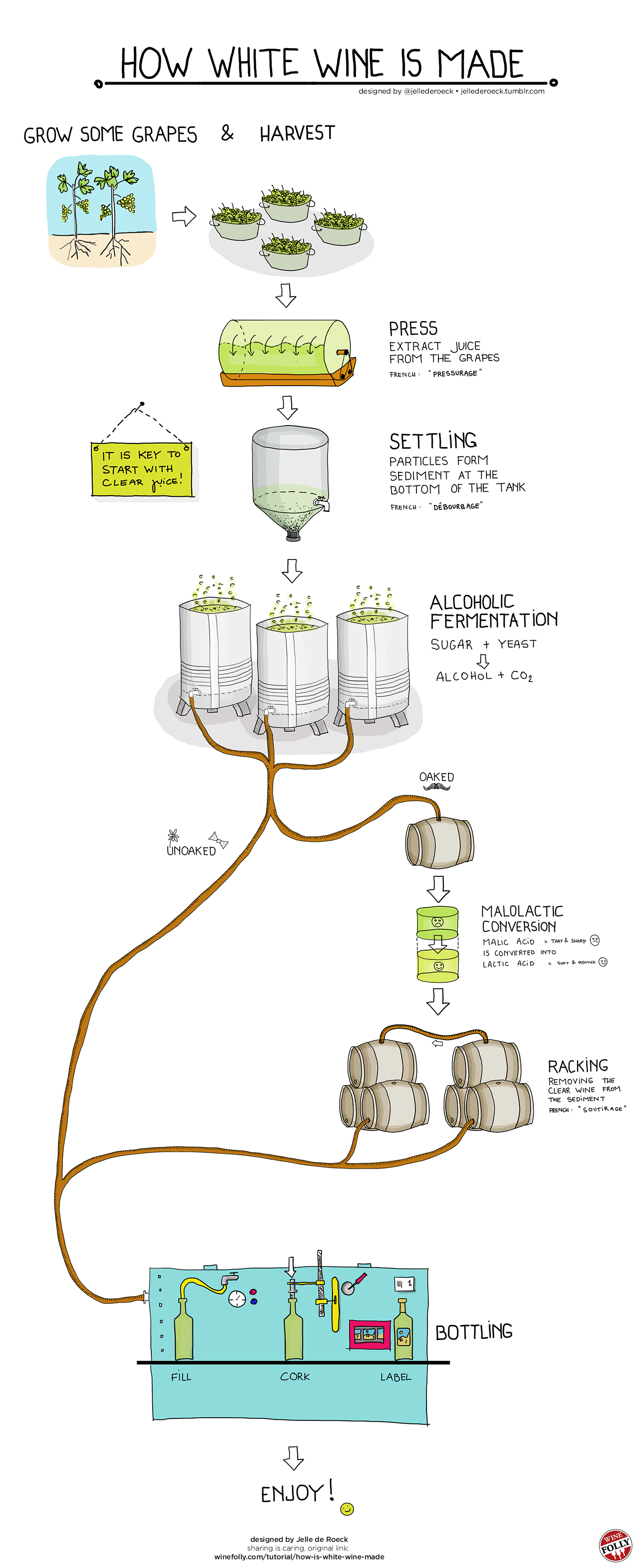 Have a burning question about wine?
Have you always wondered about the history of a certain type of wine? Or asked yourself what food is best with Chardonnay or Merlot? Share your question, and I'll give you my best answer. And others can chime in too!
Some Other Interesting Facts About Making White Wine:
What color Grape  is used for White Wine?
White wine can be made from any color of grape: green, red, black, purple.
The grapes are harvested and then pressed to extract the clear juice, and the skins are discarded. When the juice is fermented it produces white wine. 
You can make white, red or rose wine from the exact same grapes - the difference is just in how long the skins are left in with the juice during the fermentation process. Pinot Noir is a great example: The same grape is used to produce White Pinot Noir (sometimes called "vin gris" - literally "grey wine"). And Rose wine can be made from Pinot Noir grapes also, by leaving the skins in the juice for a few hours only.
How do White Wines Get Their Unique Flavors?
White wines usually have a fruitier flavor compared to red wines, even when from the same grapes. This is accomplished by fermenting white wine at a cooler temperature than red.

The oaky or vanilla flavor in some white wines (often in Chardonnay) is the result of fermenting in oak barrels.
A process called Malolactic Fermentation (or MLF) is used to impart the buttery flavor in some white wines (often Chardonnay). This is an extra step in the wine-making process which converts malic acid (responsible for tart flavors such as green apples) to lactic acid (a buttery taste or mouth-feel).
Screw Top or Cork?
Why are more white wines produced with screw tops compared to red wines? Because white wines are less likely to be aged - they don't have the tannins of red wines (which comes from the skins). The aging process is much better with a corked wine. But if the wine is going to be drunk soon after bottling then a screw top is just as good as a cork.
The filtering process is more important when making white wine compared to red: you don't want a cloudy white wine, so it is important for the winemaker to carefully filter the wine after fermentation.