What type of wine goes best with salmon?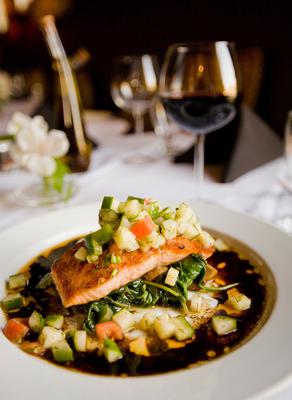 A dish of salmon with red wine
Most people say that a light white wine is the best choice with fish. Is that what you would select to drink with salmon?

I think it probably depends on how the salmon is prepared: salmon teriyaki is very different from salmon poached in a dill wine broth.

When I am eating a lightly-seasoned salmon dish, like plain roasted salmon, then I usually enjoy a Chardonnay with it. What are some other wine recommendations?

But sometimes I cook salmon teriyaki, or in a spicy tomato sauce. Then salmon with white wine doesn't seem to pair so well, and I enjoy it with a light red wine, like Pinot Noir.

What are some other ways to pair wine with salmon?