Wine Review – Acacia Winery Chardonnay
A by Acacia is a nice reasonably priced Chardonnay from Acacia Winery located in Napa Valley's Carneros wine region in California.
Have a burning question about wine?
Have you always wondered about the history of a certain type of wine? Or asked yourself what food is best with Chardonnay or Merlot? Share your question, and I'll give you my best answer. And others can chime in too!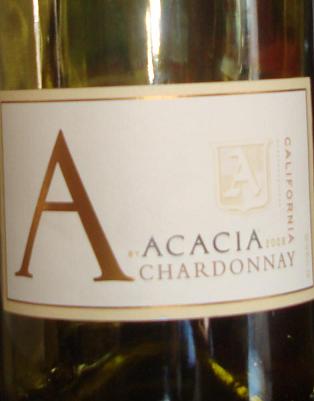 It has a crisp fruit aroma of pear and green apples. On tasting, it felt initially sweet to the tongue. That was followed by a dryer follow-through, and a finish of warm toast.
From the back of the bottle: "We've been making Chardonnay at Acacia for over 25 years, and we believe that great wine comes with experience. One thing we've learned over the years is that wine in its purest form expresses a sense of place. A by Acacia blends the virtues of California's great Chardonnay wine growing regions to create a balanced wine with aromas of pear and toast and rich, vibrant flavors of apples and tropical fruits."
According to the winemaker, "Acacia Carneros Chardonnay's opulent aromas of crème brûlée, apple and citrus are the prelude to generous pear, lemon verbena and ginger flavors, all accented by integrated oak nuances. Subtle cream notes smooth the palate and add finesse to the crisp finish."
For the 2008 vintage, Wine Spectator gave A by Acacia Chardonnay a rating of 81 out of 100 points. The 2007 vintage got a very respectable 86 points from their wine review.
This wine would pair beautifully with scallops seared in butter, chicken breast, or light cream-sauce seafood pasta dishes.
If you're visiting Napa Valley, you can tour the Acacia Winery at 2750 Las Amigas Road in Napa, California (you have to call them at 707-226-9991 for an appointment). Acacia also makes a Pinot Noir vine, from grapes grown at the same vineyard.
You can also check out our other white wine reviews, California wine review, and more here on our wine review page.


---