Wine Reviews: Wente Sauvignon Blanc Louis Mel
I thoroughly enjoyed this Wente Sauvignon Blanc from the Wente winery in California's Livermore Valley.
Have a burning question about wine?
Have you always wondered about the history of a certain type of wine? Or asked yourself what food is best with Chardonnay or Merlot? Share your question, and I'll give you my best answer. And others can chime in too!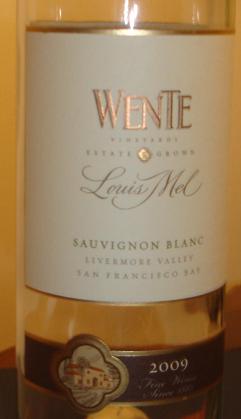 First impressions: lovely light yellow color and a crisp, slightly sweet, fruity aroma with citrus, apple, and a hint of melon.
On tasting, it has the typical dry, pleasantly acidic citrus flavor of Sauvignon Blanc, with a touch of dry pear (in a nice way) and grapefruit. Very refreshing, and a good value at about $13 a bottle locally.
From the bottle: "Wente Vineyards, established in 1883, is the country's oldest continuously operated family-owned winery. Louis Mel immigrated to the Livermore Valley in the 1800's and helped acquire cuttings of Sauvignon Blanc from Bordeaux's famed Chateau d'Yquem. Descendents of these original Sauvignon Blanc cuttings are Estate-Grown in the Wente family's sustainably farmed vineyards, producing bright, crisp flavors of citrus and pear."
Apparently, Louis Mel was a French emigrant who brought cuttings with him, and traveled around the western US to find the ideal place to plant a vineyard. He ended up settling in the Livermore Valley. Here's a good article about the California Livermore Valley wine region: "Livermore... the Best Soil in California? One Would Say Yes." We used to live just over the hills from the Livermore Valley, and we would often drive over to visit Wente winery and sample their wines. They're well worth a visit if you're ever in the area (and you can avoid the Napa and Sonoma crowds). They have a very pretty vineyard to explore, picnic tables, and some free wine tastings as well as affordably priced flights of their nicer stuff. The Livermore Valley is home to California's oldest wine growing region, so there's a lot of history to explore in the area.
Try the Wente Sauvignon Blanc paired with a Spanish goats-milk cheese like Queso Lenora, or with a light seafood dish. Delicious!
Check out these other wine reviews.


---